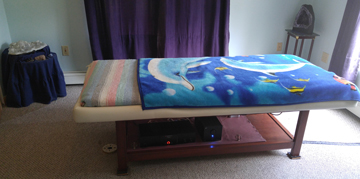 Long before I started building sound tables in 1999, I was having dreams of being in this wonderful serene room standing next to a healing table. In these dreams, I would be doing some form of energy and sound healing work on someone and sometimes just working with the table. The room felt like it was part of a larger, sacred building or temple. The feeling I had was familiar, perhaps it was long ago Atlantis, but unlike anything on earth. The table was made of a malleable yet solid material that would conform to the shape of the person's body that was lying upon it. There were various crystals of different color and sizes that were placed and removed within the table and activated during the healing process. By activated, I mean they would start to glow and vibrate. The vibration and musical tones would be emanating from the table itself. I would wake up with a sense of peace and purpose. I could not forget those dreams.

Ever since the dreams started, my path or purpose if you will, has been to work with sound and energy modalities; driven to recreate the feeling from those dreams in this life time. In the mid 1980's, I became involved with Sound Healing. I started by learning to use tuning forks on and around the body. It is as if my journey has been guided and inspired to develop the healing table that I experienced in my dreams that can exist in this world. These sound tables were an incredibly effective tool for using sound and vibration on both the physical and etheric bodies of man. Over time, the experience of working with my original sound tables sparked my creativity and a new direction happened in 2009.

I was still having those dreams and had become obsessed with finding some way of creating a comfortable form fitting table. Water seemed the obvious choice, but working with crystals would have to remain an external practice for now. So I started prototyping the Liquid Sound Table. I had experienced a larger framed sound water table and I found it to be very aggressive in its vibrational delivery and rather complex in its operation. It had been my practice to keep the operating of our vibroacoustic products as user friendly as technology would let me. I worked on my prototype using various bladders which I had custom made. I had always used Phi or the Golden Mean to guide me in transducer placement and found that again, this was the optimal way to proceed. The water in the Liquid Sound Tables delivered the sound frequencies five to six times faster than through the air or foam. The frequencies spread out very quickly and efficiently throughout the water and are incredibly smooth with our advanced technology transducers. This allows you to become one with the sound and vibration. I have not found another delivery system for transferring frequencies or music to the body that come close to being this effective. It is like being suspended weightlessly in vibratory sound. Perhaps reminding us of floating in the protective fluid of the womb.
Today, this is the flagship product for Inner Soulutions and the results and feedback we have received has been so rewarding for me. Perhaps not the table I saw in those dreams that started so many years ago, but perhaps what this realm has to offer for now. I am still excited about my journey and look forward to what transpires with this technology for those searching to harmonize their life with sound. Click to go to Liquid Sound Tables