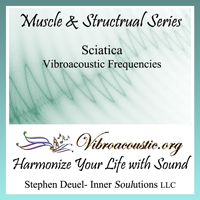 Origin of The Muscle & Structure Frequencies – Vibroacoustic Therapy (VAT)
The Muscle & Structure Frequency Series was the start of my work with Vibroacoustic Frequencies. In 2004, I designed the Spinal Vibrational Frequencies for Vibroacoustic Therapy or VAT. A chiropractor had shared with me his research into the resonant frequencies of the spinal vertebrae. Keeping the base frequency of each vertebrae which were above 200 HZ as a minor component, I added sub-harmonics into the mix so they could be felt in any brand of vibroacoustic equipment. The outcome was more than expected. The resounding feedback was similar. Clients were finding that after experiencing the Spinal Frequencies, muscles were relaxed and adjustments fell into place with the simple manipulation of movement and stretching. In many cases alleviating minor aches and pain.
In 2007, I started looking into resonant muscle frequencies in connection with VAT with our massage therapist Trisha Adams, LMT. Trisha has one of our hydraulic lift, vibroacoustic sound massage tables and worked on my wife and myself every couple of weeks for years. One day Trisha mentioned that she had three new clients dealing with neck and shoulder issues. She wondered if there was anything specific that she could use for them in her sound table. I had recently come across research by a Chiropractor in Texas who had compiled a list of resonant muscle frequencies. It listed base frequencies from 52 to 976 HZ for the different muscles in the human body. I am not an expert in physiology, so I asked Trisha to create a list of muscles for the neck and shoulders in the order she wished them to be addressed. I matched them up to the corresponding resonant frequencies and created their sub-harmonics to design a track for her to test. She played the Neck & Shoulder Frequencies (with her client's permission) in her sound table during their massage. She and her clients were very happy with the results.
A few weeks later, Trisha had several clients that had issues with their knees. Once again, we went through the same process of Trisha defining which supporting muscles in the order she wanted them to be addressed. The Knee Frequencies were again tested with her clients and the results were positive. The clients notice immediate relief of pain and or increased movement. This process continued on with Trisha's help for the Hip Frequencies, Foot Frequencies and on throughout the body. The feedback has been positive not just with Trisha's clients but with clients across the world using the frequencies. Feedback includes: reduced or eliminated pain, an increased range of motion, enhanced normal muscle tone and quicker healing times – perhaps in part due to the increased blood flow that is a natural result of VAT.
The success of the Muscle & Structure Frequencies Series inspired the research and creation of the Pain Management Series, Human Body Frequencies Series and the Energy & Balance Frequencies Series along with our Vibroacoustic Music The feedback from our global clientele on the VAT Frequencies has been extremely positive and has led to individuals requesting custom frequencies that Stephen also creates.
If you have an issue you would like to address with your clients and do not see it listed on our website, contact me and we will see what we can create. - In Love, Light & Sound - Stephen